The ACTA Early Childhood consultancy group has developed a set of six Early Childhood Education Principles as a statement of ACTA's beliefs and values about home-language-based English as an Additional Language and/or dialect (EAL/D) approach in the Early Childhood years. The ECE Principles encompass all EAL/D learners: Aboriginal and Torres Strait Islander children, newly arrived, migrant and Australian born children, and refugee and refugee-background children, functioning at all levels of home language and English language proficiency. The ECE Principles bring together the shared thinking of a large group of early childhood practitioners and researchers with EAL/D expertise from across Australia. The intention of the ECE Principles document is to raise awareness of critical issues in home language-based EAL/D education (approaches to ECE programs) for practitioners, researchers, policymakers, key-stakeholders and state, territory and federal governments.
This session is for practitioners and researchers with an interest in the Early Childhood Education field, and will give an overview of the Principles before providing participants with the opportunity to workshop them.
You can view the Principles on the ACTA website here.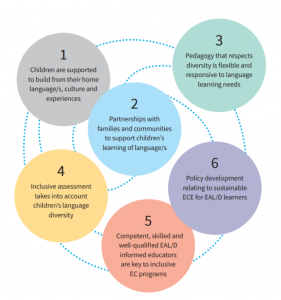 This session is run in collaboration with the Australian Council of TESOL Associations (ACTA)